Customized Anti-Static Products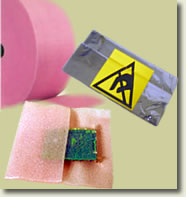 Today's miniature electronic circuits are highly sensitive to electrostatic discharges. Conventional plastic cushioning, foams and films develop static charges that can destroy or, even worse, degrade CMOS, MOSFET, bi-polar transistors and other static sensitive components.
Moisture Resistant and Chemically Inert:
MicroFoam Anti Stat does not absorb water like open-cell materials and is unaffected by most chemicals, acids, and solvents. It can be sliced, die-cut,heat-sealed, taped, laminated, stamped, printed or embossed.